Harald Nørregaard was a lawyer of exceptional stature, holding a series of important appointments and offices. He was also a great art lover and a close friend of Edvard Munch.
In 1932 Johan Bernard Hjort joined the firm as a partner. After six years of rewarding collaboration, Harald Nørregaard died at the age of 74 in 1938.
During the war years, between 1941 and 1945 the office was closed, and when the practice reopened after the war the firm started basically from scratch. However, with the abundance of work in the post-war years, it soon developed into a prosperous law business.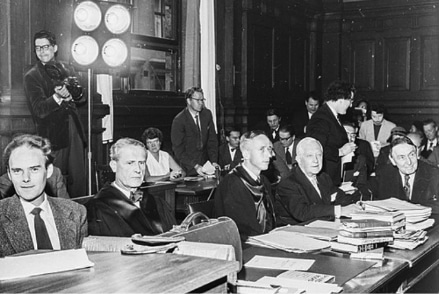 In 1950 Johan Bernard Hjort's son, Johan Hjort, joined the firm. The foundation of today's business was laid in the late 1970s, and further developed during the 1980s. Over time, we have strengthened the firm's expertise in the field of business law, and our international orientation has intensified.
By the start of 1997 we had moved to larger premises in Akersgaten 2 at Christiania Torv.
Approximately eleven years later, in the autumn of 2008, we moved again – this time to modern offices in Akersgaten 51, a prime location just a stone's throw from the both the Norwegian Supreme Court and Oslo District Court.
As we continue to grow, we have signed a contract with Entra for our new offices located on Universitetsgata 7-9. We are excited about our expected move in 2021.